Click here to watch Lupita paint!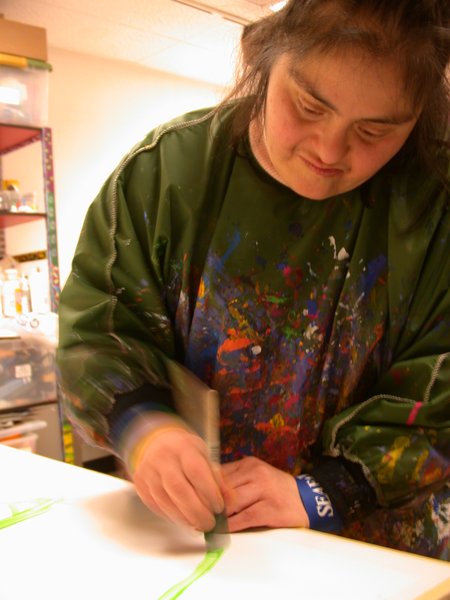 Lupita Cano is a self-taught abstract painter who loves to share her unique perspective of the world through her art.
Lupita, who happens to have Down syndrome, was born and raised in Seattle as part of a close-knit Peruvian family that valued and encouraged creative expression.
After graduating from high school she began to search for a job that would satisfy her bold personality and unfettered imagination.
During this time she began painting for recreation and soon discovered that painting was her passion
and her calling. With the support of her family, friends and her job coach, Lupita launched AE Designs by Lupita, selling note cards reproduced from her original paintings.
Today Lupita's work is exhibited and sold at art walks, craft fairs, gallery shows, coffee shops,
regional and national disability conferences, fundraisers, through retail shops and online. Lupita also contributes to her community by donating her work to charitable causes.
As a disciplined artist she has devoted countless hours over the past 20 years to developing her natural talents. Her preferred medium is acrylic paint, although she enjoys experimenting with various mediums and techniques. Her style could be described as exuberant, deep and layered. She is fearless in her use of color and does not subscribe to any rules or boundaries that would contain her artistic vision.
In February 2018 in Seattle, Lupita's artwork was featured in a musical titled "Imaginary Opus: A Sensory Experience in Two Acts". Projections of her paintings were utilized in the performance, while an art exhibition showcasing a retrospective of Lupita's work, "I Beg To Differ", was on display in the theater lobby. The musical was conceived and written by her sister, Rose Cano.
Lupita paints at the Vibrant Palette Art Center in Seattle, and at her home. She enjoys being a business owner, contributing member of her community, and an inspiration to others. Lupita encourages others to "listen to their hearts and take a chance".
Artist Statement:
"When I paint, I let my mind do the talking for me. I let my hands do the talking for me.

For example, I think about Dad, or what's going on, and paint it.

If I see cheetahs and mermaids, I do that. It doesn't matter if it's a red day,

a happy day like Wednesday, or if it's a blue, sad day like Monday.

I paint, and I let the painting do the talking for me."
"I see blobs of paint, I see aqua, or red, moving through the air.

There are sounds, sights, smells, tastes. You gotta let the art move

within you, as if you were the paintbrush.
Share whatever you've got within you. Gifts."
"My art means a lot to me."
Lupita Cano Copyright 2007